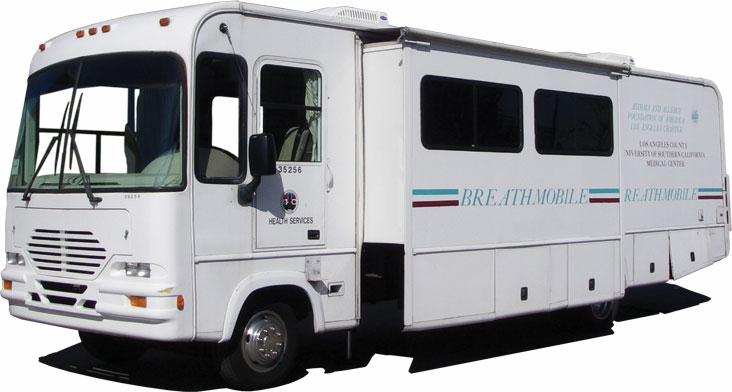 The Breathmobile is a 34-foot mobile clinic that is comprised of a small waiting area, a testing area and an exam room.
It is staffed by a team of asthma care specialists that include a specialty-trained asthma provider (MD or NP), two registered nurses (RN) or a RN and respiratory therapist (RT), and a patient financial service resource worker (PRW) available on-site or by phone. Members of the Breathmobile staff on each mobile unit are able to conduct appointments in Spanish or English (or another language via translator phone if preferred.)
Children suspected of having asthma can be referred to the Breathmobile by a school nurse, parents or primary care providers. Patients are scheduled for care on average every 6-10 weeks. Services include: pulmonary function testing, allergy skin-testing, and extensive education regarding allergen avoidance, medication use, and medication technique.  Every patient receives a written asthma action plan in English or Spanish at the completion of each visit.  These patients receive care at no costs to the families.  If patients cannot afford medications, sample medications are provided when available. Financial service workers resources are available to assist uninsured patients by providing referral services. By providing care at local school and community sites, patients with transportation issues are able to receive care.  Site-specific care also decreases length of time required for school absences and parental work absences.
The program meets the unique needs of the community by providing local, specialty asthma care at school sites within the patients' community; 85% of patients treated are Hispanic and 60.5% of patients are >50% poor or near poor based on federal poverty levels. [Patients residing in zip code area where family income for the majority (>50%) of residences adjusted for family size and inflation poor or near poor by criteria defined in Healthy People 2010 -US Bureau of the Census: poor (below federal poverty level) or near poor (100% to 199% of the federal poverty level).]